12 Hydroxy Stearic Acid (12 HSA)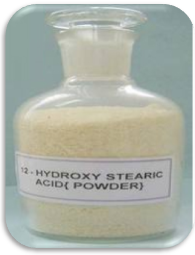 12 Hydroxystearic Acid (12 HSA) is an off-white, high melting solid fatty acid produced by hydrolysis of Hydrogenated Castor Oilwith a melt point of approximately 77°C. It is insoluble in water. 12 HSA is non-toxic & non-harzardous, partially soluble in number of organic solvents and insoluble in water.
12 HSA is used in production of lithium and calcium based lubricating greases, synthesis for complex chemicals.
When it is reacted with an ester, 12HSA provides a hard finish for the automotive and small appliance industries.
Applications:

Lubricating Greases
Chemical industry
Automobile Industry
Small Appliances Industry
Specification
12 – HYDROXY STEARIC ACID (Grade 1)
Melting Point
Min 72-78 C
Acid Value
Min 175
Iodine Value
Max 3
Hydroxyl Value
Min 155
Saponification Value
180-190
Colour
Max 4
Moisture Content
1.00%