CASTOR – Finest Product From Nature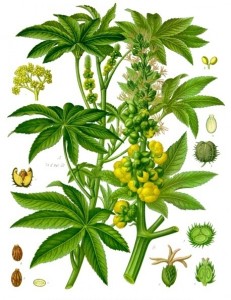 Castor oil is one of the most versatile plant oils. Castor oil is a vegetable oil obtained from the castor bean (castor seed). Castor oil is a colorless to very pale yellow liquid with mild or no odor or taste. Castor is cultivated around the world because of the commercial importance of its oil. Its unique chemical structure makes it useful in a wide number of industries and applications.
India is the world's largest producer with over 60 % share, followed by China and Brazil with about 20% and 10 % respectively. Because of its unlimited industrial applications, castor oil enjoys tremendous demand world-wide, India is also the biggest exporter of castor oil holding about 70% share of the international trade in this commodity. "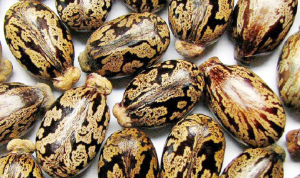 Castor seed is obtained from a tropical and subtropical plant.Castor seed size varies from 15 to 20 mm in length and 5 to 12 mm in width. Seeds are covered with a shiny brown- red hull which can be easily separated from the kernel. The hull represents 20 to 30% of the seed by weight. Whole seed contains oil from 47% to 51% in hybrid varieties. Castor seeds are processed for extraction of oil.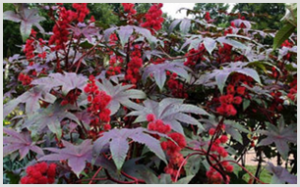 Castor is grown under tropical conditions. It loves heat and humidity and does best in regions where both are ample. India, gifted with an ideal climatic condition, has recorded a produce of close to 1200,000 tons of castor seed. This accounts for 75.6% of the world production. Gujarat produces 86% of the total castor seeds in India followed by Andhra Pradesh and Rajasthan.
We,Aura Refoilshave adapted CASTOR OIL & its DERIVATIVES as its prime range for the simple reason that Aura Refoils is located in the center of Global CASTOR Seed Production Hub Gujarat.
Castor Market Influencing Factors
Production and acreage variations
Monsoon and rainfall level
Size of the yield level of other countries
Prices of other competitive oils
Demand of the importing countries and domestic demand
Seasonal price variations
Hoarding and black-marketing
Carryover stocks
Development of new uses of the oil
CASTOR CHEMICAL PROPERTIES
| | |
| --- | --- |
| Free Fatty Acid | 1.0 % Max |
| Acid Value | 2.0 Max |
| Hydroxyl Value | 160-168 |
| Acetyl Value | 143 Min |
| Saponification Value | 177-185 |
| Iodine Value | 82-89 |
| Moisture & Volatile | 0.25% Max |
| Appearance | Clear & Free from Suspended Matter |
| Color on 5 ¼ " Lavibond Cell Scale | Yellow : 20 Max, Red : 2 Max |
APPLICATION OF CASTOR OIL AND ITS DERIVATIVES
Food

Surfactants
Viscosity Reducing Additives
Flavorings
Food Packaging

Textile Chemicals

Textile Finishing Materials
Dyeing Aids
Nylon, Synthetic Fibers & Resins
Synthetic Detergents
Surfactants, Pigment Wetting Agents

Plastics & Rubber

Polyamide 11 (Nylon 11)
Plastic Films
Adhesives
Synthetic Resins
Plasticizers
Coupling Agents
Polyols

Cosmetics & Perfumeries

Perfumery Products
Lipsticks
Hair Tonics
Shampoos
Polishes
Emulsifiers
Deodorants Textile Finishing Materials

Pharmaceuticals

Anthelmintic
Antidandruff
Cathartic
Emollient
Emulsifiers
Encapsulates
Expectorant
Laxatives & Purgative Surfactants

Lubricants

Lubricating Grease
Aircraft Lubricants
Jet Engine Lubricants
Racing Car Lubricants
Hydraulic Fluids
Heavy Duty Automotive Greases
Fuel Additives
Corrosion Inhibitors

Paints, Inks & Additives

Inks
Plasticizer for Coatings
Varnishes
Lacquers
Paint Strippers
Adhesive Removers
Wetting & Dispersing Additives
Finishing Materials

Electronics & Telecommunications

Polymers for Electronics & Telecommunications
Polyurethanes
Insulation Materials

Paper

Flypapers
Defoamer
Water Proofing Additives