Hydrogenated Castor Oil -Flakes / Powder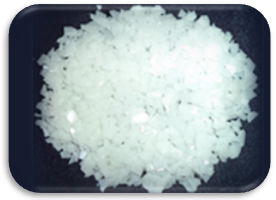 When hydrogen is added to Castor Oil in the presence of a nickel catalyst, the resultant oil, called Hydrogenated Castor Oil, is transformed into a hard, brittle wax with a melt point of approximately 85-86 degrees Centigrade. This wax is extremely insoluble and is therefore well suited for products needing resistance to water, oils, petroleum and petroleum derivatives.
HCO is available as flakes or powder which melts to a clear transparent liquid. It is a non-toxic, non-hazardous material.
Hydrogenated castor oil is usedin manufacturing of greases, but it may also be used in a paper coating for food packaging. The product can be available with several different melting points, or in beaded or powdered form. Partially Hydrogenated castor oil is used in cosmetic formulations such as lipsticks and stick deodorants.
Applications:

Condenser
Impregnation
Paper coatings
Polishes
Coatings
Waxes
Cosmetics
Specification
HYDROGENATED CASTOR OIL (Grade 1)
Melting Point
Min 85 C
Acid Value
Max 3
Iodine Value
Max 3
Hydroxyl Value
Min 155
Saponification Value
177-185
Colour
Max 2 (Gardner)