Methyl- 12 Hydroxy Stearate – Liquid/Flakes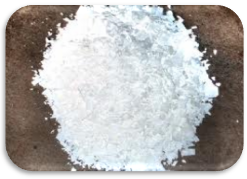 Methyl 12 HSA (Methyl 12 Hydroxy Stearate Acid, Methyl 12 Hydroxy stearate) is formed by direct esterification of the 12HSA with methanol.
It is usually sold in the liquid form and is widely used in the continuous grease process. It has a lower melting point than 12HSA and is, therefore, easier to handle in the liquid form.
Greases made with Methyl 12HS can be formulated to higher drop points, and they experience both less bleeding and improved oxidative stability.
Specification
Specification
HCO
12-H.S.A.
M-12-H.S.
Acid Value
3.0 Max.
175 Min.
6.0 Max.
Melting Point
86°C Min.
72°C Min.
49°C Min.
Colour (Gardner)
2 G Max.
6 G Max.
2 G Max.
Iodine Value
3.0 Max.
5.0 Max.
5.0 Max.
Hydroxyl Value
155 Min.
155 Min.
160 Min.
Appearance
Flake, powder and granules
Flake, powder and granules
Off-white colour in flakes form
Viscocity
@ 25°C
-
-
-
Use and
application
-Metal drawing lubricants
-Packing & Sealant
-Processing aid for rubber & plastics
-Cosmetic & toiletries
-Wax polish
-Strippable coating
-Paper
-Die-electric compound
-Investment casting
-Calcium & lithium base lubricant grease
-Heavy duty grease
-Hard, durable thermosetting polymer use
-Metal decorative finish
-Multi purpose grease
-Metallic salt-Hydroxy amide waxes
-Rubbers
-Investment casting
-Lubricating and Processing aid for Butyl rubber.
-Wax firming agent in cosmetic and specially inks.
-In adhesives and cosmetics greases.
-Source of hydroxyl stearic acid for glycerine free multi purpose lithium grease.